Keeping in touch with employees regarding internal matters of the office is important.
Often, it is difficult to provide each employee with information, especially if it is a big organization.
The best way to communicate with employees is to write a letter to all of them, broadcasting the same message in one go.
However, writing a letter to keep the office clean can be quite a problem at times.
You may not know how to start, and how to word your letter. After all, you do not want to offend anyone!
Also, you have to make sure that your tone is not condescending either.
You have to get your point across without sounding like a tyrant.
How can you do this?
Choosing the right words, and making sure that you elicit information in a positive manner is what will make this happen.
Similarly, the tone in which your letter is written can make a difference.
Refer to the following letter sample that tells employees to keep the office clean – in a polite manner!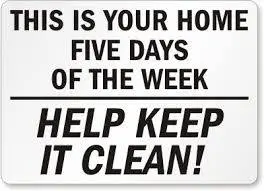 Sample Letter to Employees to Keep the Office Clean
Rover Miller
Director
Roster Prism Inc.
893 State Road
New York City, NY 90102
June 12, 2023
All staff
Roster Prism Inc.
Re: Keep the Office Clean
Dear Staff Members:
I hope all of you are doing well and enjoying the new projects that have come our way. The work is challenging, but if we put our heads together, I am sure that we can face every challenge that comes our way. And I have faith in all of you to do everything with perfection and professionalism.
The Roster Prism Inc. office is home to many of our clients, who spend a large part of their day here. In view of this, I believe that we need to make a conscious effort to keep the office clean and organized at all times.
During one of my visits to the office, I saw that desks were piled up, and dust was obvious on many surfaces. Even though the office is cleaned every day, it can still seem dirty at times. Owing to the fact that many of us have our desks full of things, it becomes impossible to keep them clean all the time.
However, we need to get our game on. Here are a few tips that you can follow to maintain cleanliness:
Keep trash bins lined at all times.
Keep hand wipes in drawers to clean up any coffee spills.
Ensure a duster is kept handy.
Make sure your desks are not overly cluttered.
Keep cleaning staff in the loop about dust and spills, so that they can clean them immediately.
I am confident that my instructions will be taken in a positive light by all of you. This office is our home away from home – let's keep it a happy place to be in!
Sincerely,
Rover Miller
Director
Roster Prism Inc.
893 State Road
New York City, NY 90102
See also: Sample Memo to Keep the Office Clean